Welcome:
Welcome to OBJECTIVE: Ministries! We offer a range of Christian educational and activist campaigns -- or OBJECTIVES as we like to call them. A list of our OBJECTIVES can be found to the left. To learn what's going on at our site, click the Site News tab above. You can return to this page at any time by clicking either our masthead or the Front Page tab on the left of any of our sub-pages.
Thank you for visiting and God bless,
OBJECTIVE: Ministries Web Team
Alert Bulletins:
MISSION ALERT: HAITI NEEDS SOLAR-POWERED AUDIO BIBLES
A special message from Faith Comes By Hearing: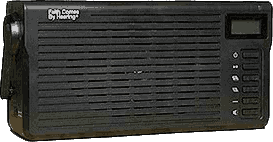 The Proclaimer® is powered by either solar energy or a hand crank and has the entire New Testament stored on a microchip.
Audio Bibles Minister Hope in Haiti
Right now, Haitians are afraid to go inside whatever is left of their homes. They are fearful of aftershocks or further collapse. Masses of people are sitting outside, on the curbs and under homemade shelters.
Imagine the change in atmosphere if God's Word is there, playing in their language, reminding them that God is with them.
The Proclaimer® is a rugged, self-powered audio Bible that can broadcast the New Testament in the jungle, desert, or even on the moon! For $157, one Haitian Creole Proclaimer® can produce enough comforting decibels of Gospel to be clearly heard by 300 homeless and injured people.
Donate now so we can turn this tragedy into an opportunity to release Haiti from the bonds of Voodoo and its Satanic pact.
SECULARISM ALERT: Obama Not Sworn In Using A Bible
Jan. 21, 2009 — During the televised inauguration on Tuesday, much was made of Mr. Obama taking the Oath of Office using the Bible that President Lincoln used during his inauguration. This was done to stifle fears that Mr. Obama's supposed Christian faith was merely a calculated ruse to hide his Muslim-Atheist leanings. However, things were not as they seemed.
Mr. Obama, who is known for his oratory skill, managed to befuddle Chief Justice John Roberts by "accidentally" interrupting him before he could finish saying the opening line. This caused the Oath to be recited incorrectly by both Chief Justice Roberts and Mr. Obama, meaning that Mr. Obama was not officially sworn in that day. Instead, the official swearing-in ceremony was conducted in near-secrecy the next night (Jan. 21) in the White House Map Room. Only this time, Mr. Obama did not use a Bible! According to the AP article: "The president said he did not have his Bible with him, but that the oath was binding anyway."
While directives for the use of a Bible are neglected in the Constitution, all presidents since George Washington have been sworn in on the Word of God. Mr. Obama, by not using a Bible, has become the first Atheist President. Thus we begin slouching towards Secularism.
CHRISTIAN PERSECUTION ALERT: Atheists Persecuting Military Christians
Sept 27, 2007 — OBJECTIVE: Ministry's resident retired military expert Jack Holgroth has alerted us to a distressing new act of anti-Christian persecution happening right now in our own military:
Major Freddy Welborn, warrior for the Lord Jesus Christ currently serving with the 3rd Infantry Division Civil Military Operations (Governance) in Baghdad Iraq, is being persecuted by Atheists who have filed a frivolous lawsuit against him. The lawsuit seeks to keep Major Welborn from freely practicing his religious calling to preach the Gospel of God to service men and women in Iraq -- including so-called "Atheists" holding "meetings" on government property.

We don't need our brave Christian soldiers worrying about their assets being seized by Atheist lawyers back home while fighting on the front line. This vexatious distraction will only cost lives and help the terrorists win. I know I and my fellow Christian game theoreticians at the DoD didn't help defeat the Godless Soviets just so Atheist fifth-columnists could undo all our hard-won religious freedoms! I urge all Christians to write their representative and demand that emergency legislation be swiftly enacted to protect Christians in uniform from religious persecution via the courts.
For more on this topic, see Jack's newest OBJECTIVE: Confronting Militant Atheism.
Christian Activism:
Christian Politics
Space Missions

Christian Persecution & The War on Christians
Secularists have imprisoned Dr. Kent Hovind, world renowned Creation Scientist!



Support his legal defense | Learn about Secular tyranny | Dr. Hovind blogs from prison

Learn more about the Militant Atheist's war on America...

Repent Amarillo is fighting Spiritual Warfare in their community. Are you?

The Restoration of Stephen Baldwin | Like Job, he has suffered.
School Issues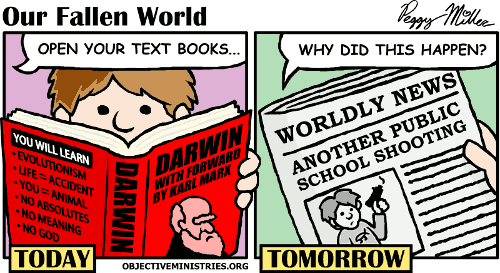 National Council on Bible Curriculum in Public Schools - Join Chuck Norris as he leads the fight to restore our Nation's religious and civil liberties by returning the Bible to our schools.
GetTheKidsOut.org - Alerting parents and pastors of the loss of faith and morals of children of Christian families who attend America's officially neutral "public schools".

From Columbine to Dawson College to a small Amish community, Evolution takes its toll...