Anna, 11, is from New York City! That's a big city!
She drew herself as an angel in Heaven with Jesus.
When we both become angels, we can visit Jesus together!
Trish, 6, drew Ruby and me dancing!
Yay! Look at me go!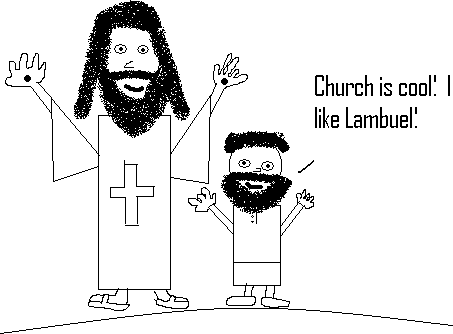 Richard and his friend Sparky drew this picture. I like you too!
He has a beard just like Jesus! Could I grow a beard some day?
Cory, 8, drew himself rebuking a devil with a cross.
Maybe when Cory grows up, he'll by just like my friend Dr. Troy!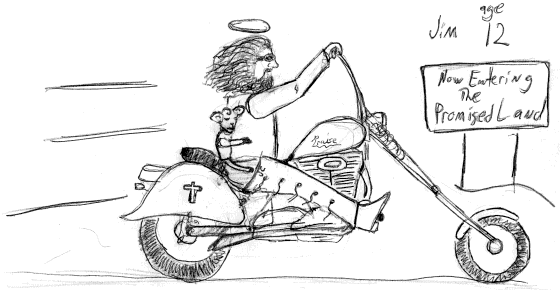 Jim, 12, drew Jesus and me riding a motorcycle together! That looks like fun!
This one is a picture of me from Abraham, age 7.
He drew it on the computer! Super!

I certainly am wearing a long sweater...
It must be cold! Brrr!
Mary, age 4, drew this picture
(with the help of her sister Kelly, 13,)
of Ruby and me after we got married!

We are having ice cream for our
honeymoon! Yay!
Mary's other sister Ruth, age 7,
drew "Dino Treets"

Look! Professor Giraffenstein is
feeding the T-rex yummy trees,
just like Adam and Eve did!
This one is from Danny, age 10. It is called "Jesus Loves Everyone":
This one is from Ben, who is a big fan of "Diamond" Jack Holgroth, OBJECTIVE's Game Theoretician (that's someone who knows lots about math stuff!)

"You're my hero, Diamond Jack. I love you."

That's awesome, Ben! If you study hard, maybe one day you too can be a Game Theoretician, just like Jack!

Great job! Send me more pictures* and remember...
Jesus & I You!
* NOTE TO PARENTS:
Please do not send full-color, uncompressed Windows Bitmap (BMP) files as these will fill up our mailbox. Preferred formats are
JPEG
for scanned images and
GIF
or
PNG
for computer-drawn images.
JPEG compressing an image drawn in a program like Window's Paint will make it much lower quality and more than 10 times larger than if you had saved it as a GIF or PNG.
If the file size is more than a megabyte, then you have done something very wrong. Thank you and God Bless.